Stay productive with our modern workspaces
Workspaces that suit your business
Avoid set-up costs, capital investment and ongoing hassles: we eliminate the burden of a property management.
Complete history for all you chats.

Optimize the time and efficiency.

Advanced filters by status and user.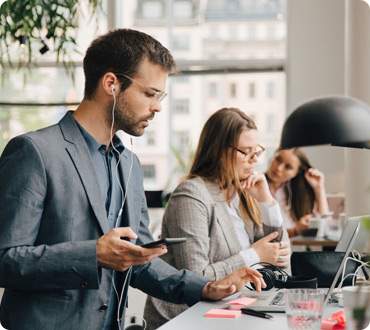 Get together in a professional environment
Surround yourself with other passionate professionals who can offer advice, support, and ideas.
We have the world's largest network of workspaces and co-working spaces
The largest network of office, coworking and meeting spaces
Buildings near you. Workspace is our craft. From private offices to whole headquarters, we create spaces that work for you. See our locations.
Our Business Center offers exclusively furnished offices of different sizes and capacity, meeting rooms, personalized telephone answering, stylish visitors' receptions, secretarial service, high-speed Internet, advanced telephone, voice mail system and much more.
Our Business Package services include personalized telephone answering, mail management, a prestigious business address, concierge services and meeting rooms. We provide high end luxurious solutions, giving our clients the opportunity of working in a high-level environment with utmost care of attention to detail and professional support.
Not only do we cater to all your business needs and offer ultimate solutions to make your workflow as smooth as possible, our IT support has been selected carefully and structured to make sure you are always connected with the best tech infrastructure with no moment lost. We understand your requirements and are invested in making your work experience and stay at our business center, the best.